YouDJ Desktop App

mix your files / save your mix / unlock all tools / offline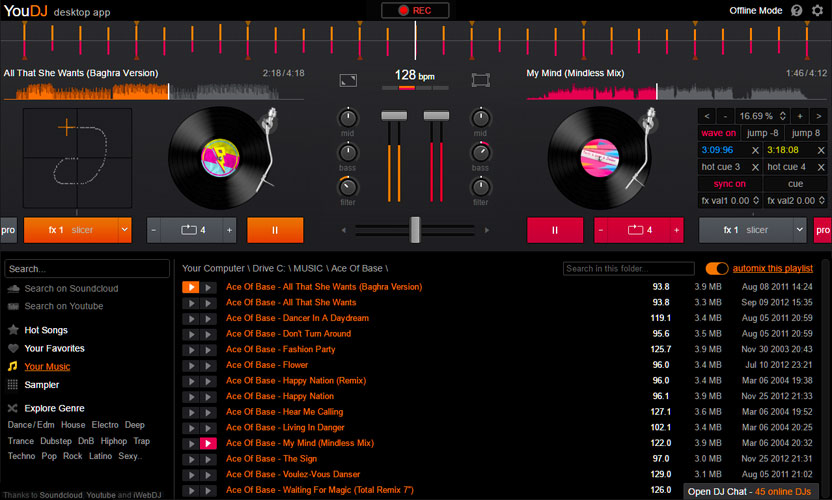 The YouDJ Desktop app is the same YouDJ mixer you love, but instead of just being a website, it is a real software you install on your computer ! (read the full story)


This allows some amazing new features, such as :

Mix your mp3 files

With the YouDJ Desktop app, you can mix MP3 files from your hard-drive and you can even import your iTunes songs. You can finally mix your own favorite music !
Record your mix on your computer

With the YouDJ Desktop app, you can now record and save your mixes on your hard-drive as audio and video files! You can then burn your mixes on a CD :)
Unlock all premium tools

With YouDJ Desktop, all DJ tools are unlocked, so you will enjoy 18 audio effects, 84 samples, all pro tools and settings. Way too much fun :)
Also, you will be premium on the YouDJ website too !
Use it offline



You can now use the YouDJ mixer offline since YouDJ Desktop is a desktop software. For your next parties, you won't need any internet access.
Detailed list of features :

offline desktop app for PC / Mac
super fun and easy-to-use interface
audio and video DJ mixer
record and save your mixes
free updates !

Music :

mix mp3 files from your hard-drive
mix Soundcloud and Youtube songs
hot songs, favorites, explore by genre
playlist automatic mixing (automix)
import your iTunes songs

Video :

play videos from YouTube
display videos in the background or fullscreen
show super cool videos with your music
external video screen (TV, beamer...)

DJ tools :

18 cool realtime audio effects
launch pad sampler with 84 samples
realistic vinyl turntable scratching
realtime Youtube video scratching
amazingly accurate BEATSYNC engine
realtime BPM control without altering the tone
mixer with crossfader, eq and filter
remixing tools : seamless loop and seek
pro tools : hotcues, beatjump, pitchbend, cdj cue
auto volume to maintain loundness across songs
crisp waveforms displaying the song structure
large scratchable beat visualization
headphone cueing (with Y-splitter)
keyboard shortcuts
Download the YouDJ Desktop app :) This is an one-time payment and costs $14.90 instead of $19.90 (Autumn Discount up to the 20th October)

After you pay, you will be able to download the YouDJ Desktop app and all DJ tools on the site will be unlocked too

All software updates are free !
User feedback "Shocking how easy they make this! a complete newbie can mix perfectly" - Google Store

"Holy shit this is fun. I'm terrible at mixing but it still makes me feel awesome" - Reddit

"Best money I have ever spent. Works beautifully, thank you so much for making this available :)" - Disqus

"Wow this is so amazing! I can use this for party! I'm now a DJ" - Google Store

"Such a simple interface, yet is a very powerful app" - Google Store

"Super fun and highly addictive" - DigitalDJTips

...

For any questions or problems, see our online help or contact us
| | | |
| --- | --- | --- |
| | The secure payment process in managed by PayPal and Stripe | © 2017 YouDJ, Mix Music Online |