Why YOU.DJ?

We believe that everyone is able to DJ and have tons of fun doing it !
That's why we worked super hard to build the ultimate online DJ mixer for you.
We designed it all to be super fun and easy-to-use, be prepared to waste lot of time* ;)
It is also very powerful, you got all tools you need to mix music and videos online!
Hoping you will love it :)

* We aren't responsible for your time wasted especially if it causes : being fired from your job, getting bad marks on exams, your mother to freak out, your hamster to die because you forgot to feed him, your girlfriend or boyfriend to break with you, or any problems that could potentially ruin your life ;)



How to mix
What you got is a traditional DJ setup : 2 turntables and a mixer.
Your mission is to play simultaneously two songs on each turntable and to use the mixer to mix them together.
To spice up your mix, you can use effects such as the loops, the fx pads, the eq, the scratch...
You can even get more effects, samples, pro dj tools, settings by becoming premium ;)
To make it easy, the beats are automatically in sync and you can also change the speed of the music by clicking on the bpm value on top of the mixer.
You can access to all the music and videos on the bottom side. The menu on the left side, allows you to search and to navigate into the music library.
Also you can display awesome videos in the background by pressing these buttons on the mixer.


To finish, you can record your mix and share it with your friends by clicking on the record button (above the mixer).

Technology
Most of the music is coming from SoundCloud, the best online music website in the world! We warmly thank them to be that awesome :)
Because there isn't any good party without Youtube, you can also access to all the Youtube catalog for both the music and the videos.
The amazing online DJ mixer technology is made by our friends from iWebDJ.
To finish, the site is using the most advanced web technologies (HTML5) and is made with love :)
Note : for the best mix experience and stable audio, use Google Chrome.
About us
We are a group of cool guys from Fayetteville (USA) with the aim of building the easiest and funniest DJ app ever!
We are huge fan of electronic music, video games and internet technologies :)
We are definitely not an evil company, believe or not, our main motivation is by far the passion of music and DJing.

Since it takes a lot of time to build a website as complex as YouDJ, we introduced the

premium features

.

You might think : "WTF?? do I have to pay now?? F*** you guys!" but don't worry, you do NOT have to pay anything!!

All the basic DJ features are free but the premium brings more fun and some advanced options which can be pretty useful if you want to be the next Skrillex :)

Also we tried to keep the price of the premium as low as possible. We don't get all of it since we have to pay taxes, transaction fees, blabla... :D

Despite of that,

this money allows us to continue working fulltime on the site (= not having another job) and therefore to develop new stuff for the site!

We have many great ideas and you might see new stuff coming in the future! :))

Again, BIG THANKS TO ALL OF YOU for loving the site, it means a lot to us because we are working on it so much!
PS : Some years ago, a group of talented cinema students made this amazing video at a beach party!
We really want to share it with you, so you can get a bit of the YouDJ vibe. Enjoy the music and have fun !! :)


Chrome app
If you are using Google Chrome, you can even install our free chrome app !
The Chrome native app should bring some performance improvements over the website.
If you like the app, don't hesitate to let a nice comment on the Chrome Web Store :)

MIX.DJ (our second website)
We also made MIX.DJ which is an amazing catalog of DJ mixes and videos sorted by genre (edm, house, trance, hiphop...)
Once you have recorded your mixes on YOU.DJ, they are automatically posted on this mixes sharing plateform and everybody can listen to your mixes!
We mainly made this website to allow you guys to share your mixes and listen to the mixes from the other DJs.
If you want to listen to hours of good music, go straight to MIX.DJ and enjoy, it is all free, no BS :)


Contact / Support
You have a problem or a question? first if you need a quick answer please take a look at our frequently asked questions (FAQ).
Surprisingly, 80% of the questions we receive by email are actually answered in the FAQ :D
Then, you can of course write us, we used to take between 12 and 48 hours to reply, here is the contact form!

Select your problem :

Your email :
Type your email here. We will reply to this email, so be sure it is the correct one :)
Your message :
Type your message here. Try to be as clear as possible and give us details about the problem.
The message must be in english otherwise we won't be able to understand and reply.
MIDI controllers
Because lot of people asked for it, YouDJ is now also compatible with all MIDI controllers!! :)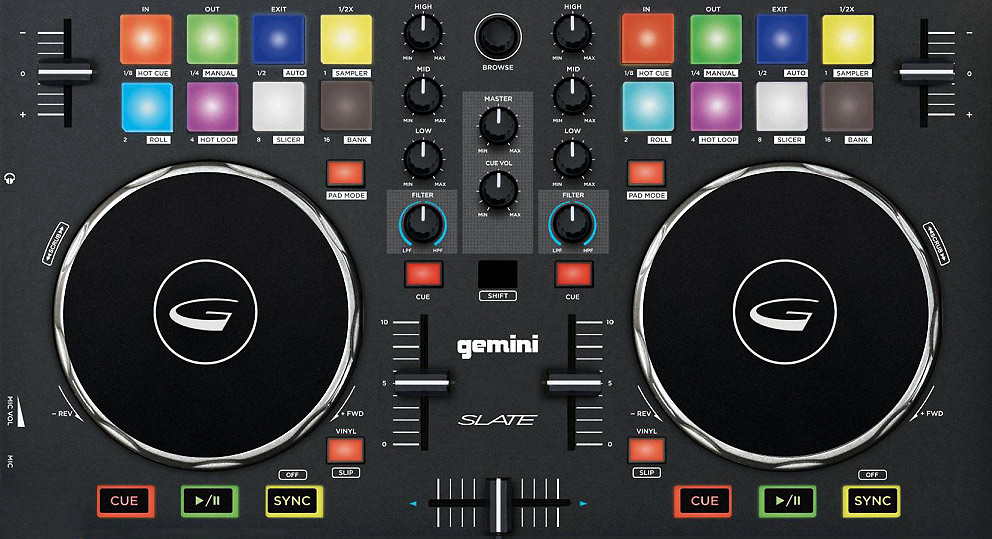 A MIDI controller is a USB device which allows to control the YOU.DJ software and website.
Instead of using your mouse / trackpad, a MIDI controller provides real buttons, knobs, faders... It is the ultimate way to use YouDJ :)
In shops, you can find many kinds of MIDI controllers, for beginners to pro DJs.
If you need more info, or even if you want to buy a MIDI controller, check out our page dedicated to MIDI.
Help us / Jobs
If you love YouDJ and if you are genius in music selection, programming or marketing, you can help us to improve the site! We are always looking for talented and motivated web programmers (html5, javascript, jquery, php, mongodb) who wants to work remotely with us (as a freelance), you can send us your resume here. We are also looking for a web marketer / growth-hacker but you need to have experience in the field. Also, for their amazing work, we give a BIG THANKS to our pro music curators : Thomas Curtis, Jose Sanchez, Erick Anderson, Music Lovers (his site), Jakob Feder and to all the people who helped to translate the site : Quesia Araújo (Brazil), Henny Rusch (Nederlands), Kevin Koedam (Nederlands, his mixcloud), Denis Zavadovschi aka SoundMaster (Russia), Matthias Weber (Germany), Athanasios Tassis (Greece), Simone De Pretto (Italy), Yana Chernysheva Piano (her youtube channel), Adam Walkowski (Poland), Philip Franzén (Sweden)...
Frequently Asked Questions


- YouDJ doesn't work, I can't load any song or I don't hear anything...
First thing to do : clear your browser cache and reload the page! Maybe a file hasn't been loaded correctly from internet, some data get lost sometimes.
If it still doesn't work : try on another internet browser. For example, if you use Firefox, try on Chrome.
If it still doesn't work : see if Javascript are not blocked on your computer
If it still doesn't work : try to disable your antivirus or firewall
If it still doesn't work : contact us here

- Sometimes the music lags briefly and I hear some strange noise...
First thing to do : use Google Chrome, it is the best for audio stability!
If it still doesn't work : check if your laptop is not in "power saving" mode (see here)
If it still doesn't work : close all tabs in your browser, keep only the YouDJ tab open
If it still doesn't work : clean your pc and make sure not too much programs run in the background
If it still doesn't work : throw away your computer and buy a new one haha ;)

- Can I RECORD my mix?
Short answer : YES, but you need the desktop app to save your mix as an audio file on your computer
Long answer : Today it is not possible to save (=download) your mix directly on the website because the internet browsers have too much technical limitations.
But because so many people asked for it, we worked for months to solve this and it is now possible to record your mixes and save them as audio files on your computer!! For this you need the YouDJ Desktop app. It is exactly the same YouDJ mixer you love, but instead of being a website, it is a real software you install on your computer. This allows some new features, like loading mp3 files stored on your computer or using YouDJ offline.

- Can I MIX MY OWN SONGS stored on my computer?
Short answer : NO with the website, YES with the desktop app
Long answer : Again, the internet browsers don't allow a website like YouDJ to get access to the computer hard-drive, for obvious security reasons. So we worked for months on a solution and it is now possible to load your mp3 files stored on your hard-drive!! For this you need the the YouDJ Desktop app. It is exactly the same YouDJ mixer you love, but instead of being a website, it is a real software you install on your computer. This allows some new features, like recording your mix or using YouDJ offline.

- So if I buy the YouDJ Desktop app, I will also be Premium on the website?
Yes absolutely! the YouDJ Desktop app includes the premium/vip subscription on the website for free! This means that all the premium DJ tools will be unlocked and you will be able to enjoy all 18 audio effects, 84 samples, pro tools and settings :)

- I want to buy some stuff from you, what about the payment?
Today, all the payments are processed by PayPal or Stripe. You can pay with a credit card, with your paypal account and many other ways. Please contact us if you want to use another mean of payment. When you click on the "buy button", you are redirected to the PayPal website. Once the payment is done, you will be redirected back to the YouDJ website again (don't close the window too soon ^^) and you will get these unlock / download instructions. Everything is super secure, PayPal is a very serious website! If you have any problem, PayPal manages claims and refunds. To be clear, YouDJ doesn't see any of your bank details, we only receive "confirmations of payments" from PayPal.

- I just bought YouDJ Premium, but the premium features are not unlocked! wtf???
First don't worry :), secondly, are you sure to be logged on YouDJ with the correct user account? Only one is unlocked when you pay.
So here is what happens when you unlock YouDJ, there are 2 possibilities :
1. if you was logged in when you unlocked YouDJ : The YouDJ account you was logged in gets unlocked! Once you made the payment, reload YouDJ to enjoy the unlock. Eventually, if it doesn't work, try to wait 5 minutes or try to logout and login again.
2. if you was not logged in when you unlocked YouDJ : a new YouDJ account is automatically created based on your paypal email address and with the default password '123456' (you can change the password afterwards). So, you have to login with this account to unlock the premium tools!
In any case, all instructions are displayed when you finish the payment (don't close the tab too soon) and are also sent on your paypal email (check spam).
More precisely, this is the unlock / download instructions you got after you pay.
If with all this you still can't get the premium DJ tools, contact us here, we can always activate you manually :)

- I was premium before but now all tools are locked again...
Just to ensure you, the premium unlocks all DJ tools forever, it means that there is no way that the system deletes your account for instance.
So be absolutely sure to be logged in with your premium account. Only one account gets unlocked when you pay.

- I just bought the YouDJ Desktop app but where is the download link or my ACTIVATION CODE???
When you buy the YouDJ Desktop app, the direct download link are displayed when you finished the payment, be sure not to close the page too quickly.
If you closed it too soon, the download link is also anyway sent on your paypal email, be sure to check in your spam folder.
More precisely, this is the unlock / download instructions you got after you pay.
When you click on the download link, you are redirected to the download page, where you can see the updates you can download.
Also the activation code is given on this download page, right above the big green download button. Be sure you don't close it too soon ;)
To finish, it is important to know that the YouDJ Desktop app includes the premium/vip subscription on the website for free !
Again all the instructions are displayed after the purchase and sent by email. If you have problems unlocking the YouDJ website, see the related answer.
If with all this you still can't download the YouDJ Deskop app, contact us here, we can always send you the link manually :)

- I just bought the YouDJ Desktop app but I can not mix my songs or I can not save my mixes from the website.
This is normal, as describe on the desktop app page, the desktop app is a conventional software you install on your computer, which is different from the website which runs in a limited environment (the internet browser). Unfortunately, the website can not go beyond the security and technical limitation described in the internet standards (W3C) and implemented inside the internet browsers by Google, Apple, Microsoft... Fortunately, we came up with a solution, and to unleash the full power of YOU.DJ app and access to your hard-drive, use the app offline and save your mixes as audio files on your hard-drive, you need to download, install and the use the YouDJ Desktop app.

- What is your refund policy?
Our refund policy is pretty standard. We will refund you if you can't use what you paid for and if the problem is mainly our fault. For instance, if you pay for the premium and our system doesn't unlock you, we will refund you! Obviously we can't endorse any responsability for things we don't have control to, such as your computer or your internet connection. For instance, if your dog put your laptop into pieces and you can't make the app to work anymore, we can't refund you :)
In any case, since this app is our baby and we spend all our time building it, be sure that we do our best to make YouDJ as cool and reliable as possible!

- When I load this song, the BPM shows '

---

' and the BEATSYNC doesn't work, why?
The beats are not in sync because one of the song (or both songs) doesn't have a stable BPM or is a video. When this happens, the BPM is labeled as

'---'


Indeed, in order to sync both songs together, the songs' tempo must not change, it must be stable along the entire songs! It is normal if you think about it :)
Here is why one of your song doesn't have a stable tempo :
1. the song is already mixed (mix rip)
2. the song has been recorded 'live'
3. the song is damaged or badly encoded
4. the song is a YouTube video (we can't analyze its BPM)

- Can I use my MIDI controller with YouDJ?
Yes absolutely! Using MIDI controllers is the ultimate way to control YouDJ for maximum fun :)
To use your controller, go to the settings > midi control. YouDJ is compatible with all type of MIDI controllers !
If you need more info, or even if you want to buy a MIDI controller, check out our page dedicated to MIDI.

- What about the PartyCloud website?
The guy behind PartyCloud recently became a dad (congrats to him ^^) and doen't get enough time to continue working on the site.
The new YouDJ team has been inspired by the PartyCloud site but started the YouDJ project from scratch on their own.
Also the PartyCloud website still exists and if you like it, you can still use it by clicking here.

- At my next party, I won't have internet, can I use YouDJ offline?
This can of course happen, you are invited to an amazing party on the beach, with cute top models, your are the DJ, but you are not sure to get internet over there. Or maybe you don't want to take any risk and you want to use your own songs as a backup plan. To solve this problem, we made the YouDJ Desktop app, which is a real software, totally offline, that you install on your computer. If you are online, you can use SoundCloud and Youtube with it and if you are offline you can still use your own songs from your computer. The music must never stop, that's the most important rule for a DJ !! :)

- Do you have advices for best performance ?
Yes! here are some tips if you really want the best setup for a great party for instance :
1. use Google Chrome for stable audio !
2. set your laptop power option to "high/max performance" (how to set on Win10)
3. run only YouDJ on your computer (don't run too much program in the background)
4. use the Google Chrome native app

- Where do the hotsongs come from?
The hotsongs are selected by the YouDJ team (we are also DJs ^^). The hotsongs is a selection of great songs which are also easy to mix. It is good playlist to start to practice mixing on YouDJ. But of course you are not limited to the hotsongs, to discover new songs, you can use the search function and also the 'explore by genre' which is amazing to find great songs :)

- What about copyright of the music on YouDJ?
To be clear, YouDJ doesn't host any music. All songs come from SoundCloud and Youtube (big thanks to them!) so you must refer to their copyright policies.

- Why some SoundCloud songs don't appear when I search for them?
YouDJ uses the SoundCloud public API to access to the SoundCloud library (big thanks to SoundCloud btw, you are amazing :). Almost all SoundCloud songs are accessible this way except if the SoundCloud content creator disabled it, mainly for copyright reason. Unfortunately this happens sometimes but rarely. But with dozens of million songs available, you should have enough to have fun ;)

- Can I import my favorites songs from my SoundCloud account?
Yes! to import your SoundCloud favorites songs, go in the "favorites" tab and then click on "import". Then type the SoundCloud user name you want to import songs from. It can be your account or any other SoundCloud user. Then click "ok" and you have access to the SoundCloud favorites! Pretty cool right? :)

- My computer crashed and all songs in my favorites are gone...
If you were logged in, all songs in your favorites are saved on the YouDJ servers and you can access to them from any computer, at any times. So don't worry, you just need to be sure to login on YouDJ. If you don't have an account, your favorites are not saved and disappear when you reload the site, so be careful :)

- Can I change my DJ name on the DJ chat?
Yes you can! For this, in the chat, see the small menu on the very botton left, click on "sign out", then click again on this menu and choose "login as guest" and here you can enter a new DJ name!

- Is YouDJ translated into other languages?
Yes! we managed to find some very nice DJs from the YouDJ community who helped us translating the site, a big thanks to all of them!
Therefore the site is accessible in : English, German, Spanish, Portugese, Dutch, Swedish, Italian, Russian, Polish, Romanian and Greek.

Your question is not in that list? contact us here



User data and privacy policy
We are super happy that you love mixing music on YouDJ! As we said ealier, we are a group of cool guys, not an evil company :). In this section we are given details about how we're using information. Don't worry there is nothing to worry about it, all are pretty standard stuff but we want to be transparent on this.

What information we collect :
- If you are not a registered user, we don't record any information about you.
- If you are registered, we are recording some information when you sign in. We don't need to know where you are from, what primary schools you went to, or where do you buy your beer :). The only personal data we record on our servers are : your email or your Facebook ID number or Google ID number (depends how you login) and your full name. Important, we do NOT have access to your Facebook or Google account, profile or password !
- To keep you logged in at each visit. We use the tools provided by Facebook and Google, and a login cookie if you are logged in with your email.
- Pretty basic also, we are using Statcounter, a popular tool to monitor how much people goes on the site every day.
- Also, the entire payment process is managed by PayPal. So, we don't have access to your payment info, we only get "confirmations of payments".
- To finish, just to let you know that we don't record any activity you do on the site, so you can go crazy on YouDJ, no one will know :)

What do we do with information :
Your personal info are only used when you login. Also, very important to know, we do NOT give your info to anyone else !

What about data encryption :
When you login on the site, all the login process are encrypted with HTTPS. This means that no one on the internet can intercept the data.
Also, if you have set a password on YouDJ (email login), your password is encrypted on our servers, so even us can not see it!
If you forgot it, we can't give it to you, you have to define a new one with the password reset tool.